#1 International Bestseller  • #1 Bestseller at Amazon and Barnes & Noble  •  Bestseller at Apple/iBooks
Lairds of the Crest Book I
SYNOPSIS
She fell through time and into the arms of the 15th-century Highland laird she was fated to save. Will their love be a timeless treasure or an eternal curse?
Dr. Gwendolyn Reynold's career path is secure…so why does she feel so restless? Haunted by recurring dreams, she breaks away on a soul-searching trip to coastal Scotland. But when a storm forces her off the road, she plunges into icy waters, only to resurface in the arms of a handsome highlander.
Scotland, 1426. Fierce and feared, Laird Greylen MacGreggor has yet to meet his match. Eagerly awaiting the woman foretold in prophecy, he never expects her to be a 21st-century stunner with a feisty temper. But when he rescues her from the icy waters behind Seagrave Castle, his first touch confirms that Gwen is his destiny.
As sparks fly between the unlikely pair, they discover their passionate fate could be both powerful and deadly. Can Gwen and Greylen overcome centuries of differences to find true love.
If you like your romance filled with steadfast lovers, steamy nights, and a dash of riotous humor, get spell-bound by The Prophecy—the first enchanting love story in the Lairds of the Crest series.
Praise for THE PROPHECY
Named 2019 Official Selection – Bedside Reading
"The Prophecy will take you away from the stresses of today, and into a completely different world." – Luxe Getaways
"Wow, what a great book...From beginning to end, this book delivers!!! Kim Sakwa's writing flows, as she paints a vivid picture and tells a compelling story that has you invested in the characters and story from the very beginning. The dialogue in this book will have you laughing out loud as you turn each page looking for more and more. What a fun time travel romance!" – Sherry Jones, Goodreads user
"The story not only contains humor, but romance, action, and unconditional love…It completely pulled me in." – Amazon Reviewer
"5 stars from me…I loved the storyline, time period, the well-developed characters, the love story and throw a 'prophecy' of two destined souls to come together in a time travel story—I could hardly put the book down...Will tug at your heart and give you some giggles along the way." – Barnesandnoble.com Reviewer
"Love ignites when two centuries collide…Completely unique and compelling…This story will grip you on every page with valor, destiny, love, and romance." – Lyn, Amazon Reviewer
"Fantastic! I couldn't put this book down! One of the best ones I've read in a really long time." – iBooks Reviewer
"What a great read from start to finish. Gwen and Greylen are truly the power couple from the [15]th century. Best book I have read all year." – L.A. Moore, Goodreads User
"A wonderful and enchanting love story with strong likable characters." – Amazon Reviewer
"Excellently written and absolutely enjoyable...At least for a few days, I lived in [15]th century Scotland...I highly recommend this book.." – Bruce, Amazon Reviewer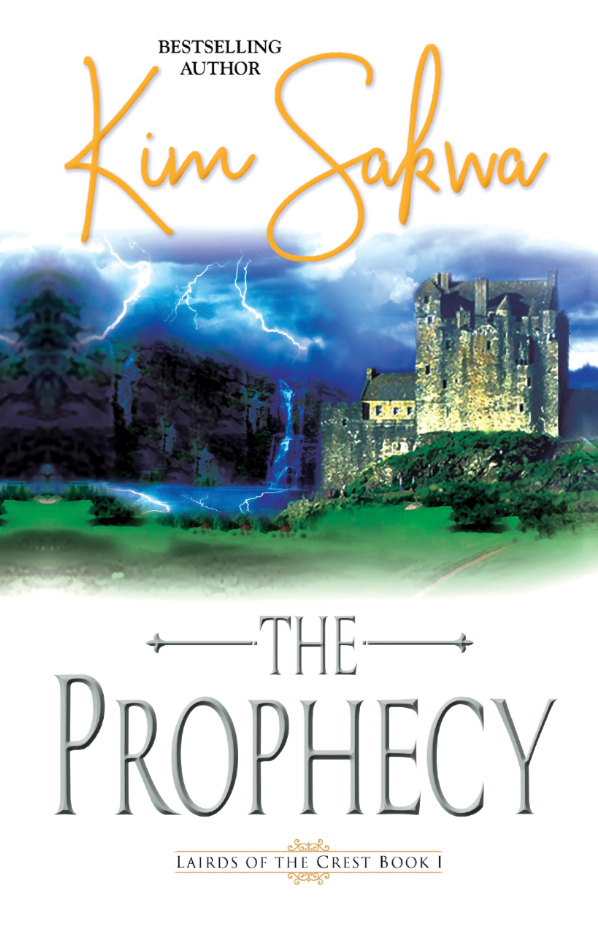 The dream was always the same.
Gwen pressed deeper into the warm embrace, sighing as strong arms tightened around her. She rubbed her face in the crook of his neck, running her hand over the solid mass of back and shoulders until her fingers tangled in thick, soft hair. Large powerful hands followed her movements, pressing her closer as he cupped the back of her head and gently tilted her face.
She never felt his hesitation before. Tonight she did. She tugged on his hair, a silent demand to be kissed. Then he covered her lips, completely sealing them within his own. A deep sound rumbled through his chest.
This dream was different.
She felt the warmth of his lips and the pressure of his hands, the texture of his hair and the heat of skin. She heard sounds given and returned.
It seemed so real.
His thumb coaxed her chin, and her lips parted as he moved between them. He spent an eternity simply joining their mouths…in every possible way. His tongue, reverent at first, was slow to explore, then became wholly demanding.
She gave in to him completely. In truth, she kissed him back with everything she had. They shared an urgency—taking satisfaction as they'd never been able to before.
She traced her fingers over his face—his broad forehead, straight nose, high cheekbones, his smooth, strong chin—and she pulled him even closer.
My God, it had never felt so good.
She made a sound as he pulled back, a whimper he hushed with slow, passionate kisses over her forehead and cheeks. Then he covered her lips again before tucking her within the crook of his neck. "Sleep, love," he urged in a murmur. "The morn's but an hour away."
Gwen burrowed against him, silent tears wetting her cheeks—oppressive longing crushing her from the inside out.
She'd never heard the sound of his voice.
It would haunt her forever.