#1 International Bestseller  • #1 Bestseller at Amazon and Barnes & Noble  •  Bestseller at Apple/iBooks
Lairds of the Crest Book I
Praise for THE PROPHECY
"The Prophecy will take you away from the stresses of today, and into a completely different world." –Luxe Getaways
"Wow, what a great book...From beginning to end, this book delivers!!! Kim Sakwa's writing flows, as she paints a vivid picture and tells a compelling story that has you invested in the characters and story from the very beginning. The dialogue in this book will have you laughing out loud as you turn each page looking for more and more. What a fun time travel romance!" –Sherry Jones, Goodreads user
"The story not only contains humor, but romance, action, and unconditional love…It completely pulled me in." –Amazon Reviewer
"5 stars from me…I loved the storyline, time period, the well-developed characters, the love story and throw a 'prophecy' of two destined souls to come together in a time travel story—I could hardly put the book down...Will tug at your heart and give you some giggles along the way." –Barnesandnoble.com Reviewer
"Love ignites when two centuries collide…Completely unique and compelling…This story will grip you on every page with valor, destiny, love, and romance." –Lyn, Amazon Reviewer
"Fantastic! I couldn't put this book down! One of the best ones I've read in a really long time." –iBooks Reviewer
"What a great read from start to finish. Gwen and Greylen are truly the power couple from the [15]th century. Best book I have read all year." –L.A. Moore, Goodreads User
"A wonderful and enchanting love story with strong likable characters." –Amazon Reviewer
"Excellently written and absolutely enjoyable...At least for a few days, I lived in [15]th century Scotland...I highly recommend this book.." –Bruce, Amazon Reviewer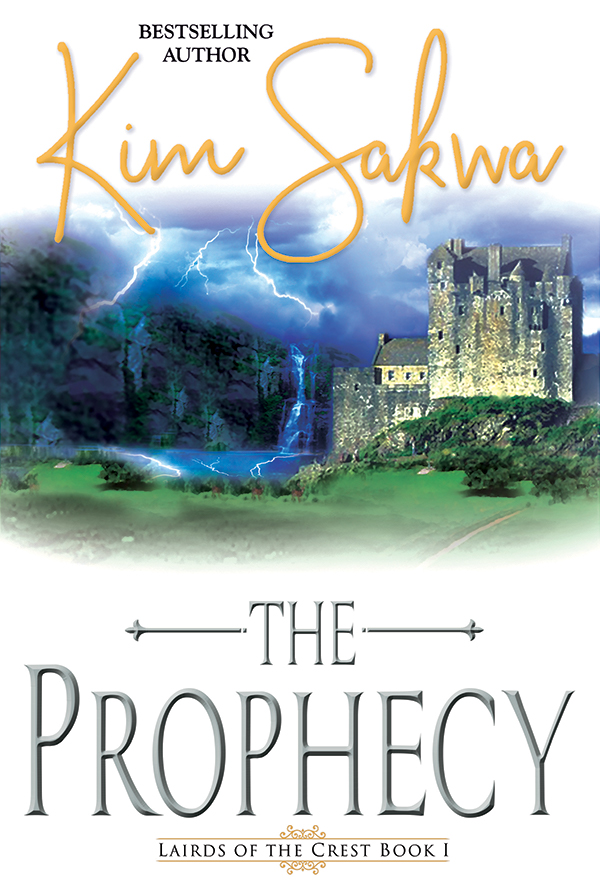 SYNOPSIS
She fell through time and into the arms of the 15th-century Highland laird she was fated to save. Will their love be a timeless treasure or an eternal curse?
Dr. Gwendolyn Reynold's career path is secure…so why does she feel so restless? Haunted by recurring sensuous dreams, she breaks away on a soul-searching trip to coastal Scotland. But when a storm forces her off the road, she plunges into icy waters, only to resurface in the arms of a handsome highlander.
Scotland, 1426. Fierce and feared, Laird Greylen MacGreggor has yet to meet his match. Eagerly awaiting the woman foretold in prophecy, he never expects her to be a 21st-century stunner with a feisty temper. But when he rescues her from the icy waters behind Seagrave Castle, his first touch confirms that Gwen is his destiny.
As sparks fly between the unlikely pair, they discover their passionate fate could be both powerful and deadly. Can Gwen and Greylen overcome centuries of differences to find true love?
If you like your time-travel romance filled with steadfast lovers, steamy nights, and a dash of riotous humor, get spell-bound by The Prophecy.
It took Gwen thirty seconds to realize something was wrong. Very wrong. Besides the fog filling her head, it was completely dark. She couldn't open her eyes.
Those were the thoughts that occurred within the first ten seconds.
In the next ten, she became aware of the fact she was one giant bruise, some areas more severe than others. Those were the wrong seconds.
The very wrong were the last ten.
That was when she felt warmth beneath her cheek, breath upon her head, and large hands spanning her back. Holding her with both tenderness and possession. Sure she was fully conscious but affected by an adverse reaction to her IV, she reached for the nurse's call button. The arms around her tightened, accompanied by a calming whisper.
It was so reassuring, this touch and sound, that she snuggled deeper into the embrace. Indulging in sensations completely foreign to her, she felt safe and protected.
Then she felt panic. My God, she felt fear.
She pushed away with all her strength, scrambling for the edge of the bed, each move hurting more than the last. Each breath she tried desperately to take wasn't quite deep enough. Those same large hands covered her shoulders, gentle on top of her thick bandages.
Then everything came back at once.
Losing control of the truck. The mudslide as she plunged into the ocean. The explosion of the airbags. Pushing through the window. Jagged glass tearing her skin. Fighting to swim to shore. Wave after relentless wave. Defeat.
"Who…?" Gwen tried to catch her breath. Her hands moved forward and stopped against his chest. Smooth, warm skin. Hard muscles beneath her palms and fingers. He was a brick wall—an enormous brick wall. Terrified by the sheer size of the giant who sat in front of her on her bed, in her bed, she pushed back.
"Cease."
That one word, spoken with gentle authority, shocked her. Cease? Who said cease? And who said it like that? A voice so deep, a timbre so rich. It seemed familiar but… "Who"—she took a short breath—"are…" Larger gasps followed.
"Breathe," he demanded in the same tone. "In… out…" He continued his litany, but Gwen couldn't seem to follow. "Good God, not again." It sounded like a curse and a sigh. Then strong lips covered her open mouth. Warm and determined, he stole her breath.
Then he gave it back.
Calm. Steady. Even.
The hands that covered her shoulders moved. One palmed her head, long fingers holding her steady until her breathing matched his own. The other splayed her chest, directly over her heart, as if willing the erratic beat to slow.
It beat the hell out of a paper bag.
He pulled back. But his mouth drew upon her lips, ending his unconventional first aid with what could only be a kiss.
A note from Kim to the first readers of THE PROPHECY, November 2020
Dear Readers:
First, thank you for reading and enjoying my first time travel romance novel THE PROPHECY. I want to share that for all future editions of THE PROPHECY, I've shifted the time setting from the 16th century to the 15th century. Why? Sometimes writers ignore their instincts, and later we need to go back to what we initially planned! 
I had originally set THE PROPHECY in the early 1400s, and then in subsequent edits I moved it ahead 100 years, mistakenly thinking life wouldn't seem so stark. But, as some of my wonderful readers have noted, the history wasn't working quite right. Scotland in the early 1500s would have been involved with much political and religious intrigue leading to the Protestant Reformation, not to mention key activities happening in England—namely Henry VIII's selection of Anne Boleyn as his second wife and his efforts to annul his first marriage to Catherine of Aragon.
So now Gwen and Greylen's love story is back in the 1400s, where it was always meant to be. Thank you so much for taking the time to consider the setting and sharing your thoughts, and for enjoying this novel that proves that love isn't bound by time!
THE PROPHECY is the first book in the Lairds of the Crest series, and soon you'll be able to read THE PRICE, the second in the series. I hope you'll find it irresistible too!
With love,
Kim