#1 International Bestseller  • #1 Bestseller at Amazon
The Brothers Montgomery Series, Book 1
SYNOPSIS
She's a famous songwriter who can't remember a year of her life. He's the British spy with all the answers.
While walking through the tunnels of her family's estate in England, successful singer-songwriter Amanda Marceau travels through time and into the arms of Alexander Montgomery, the Royal Navy Admiral who captures her heart. Months later Amanda's forced back to the present with Alexander's daughter, heartbroken they've been separated, and shocked to discover she's pregnant.
Hoping Alexander will find his way through time to her, she's later devastated to learn he was killed for being a spy at the dawn of the American Revolution. Unable to cope with the horrible consequences, Amanda suffers an epic breakdown, and tucks away the memories that are just too much for her to bear.
But Alexander Montgomery wasn't executed, nor has he forgotten Amanda. He's spent each day planning, searching for, and finding his wife and his daughter. He's made the jump through time, and is using everything at his disposal to reunite his family in the twenty-first century. Then he learns that Amanda has amnesia—she can't remember the time she spent in eighteenth-century Britain—and has no idea who he is.
More determined than ever, Alexander knows it will take all of his love to restore her memory—or just maybe win her heart anew.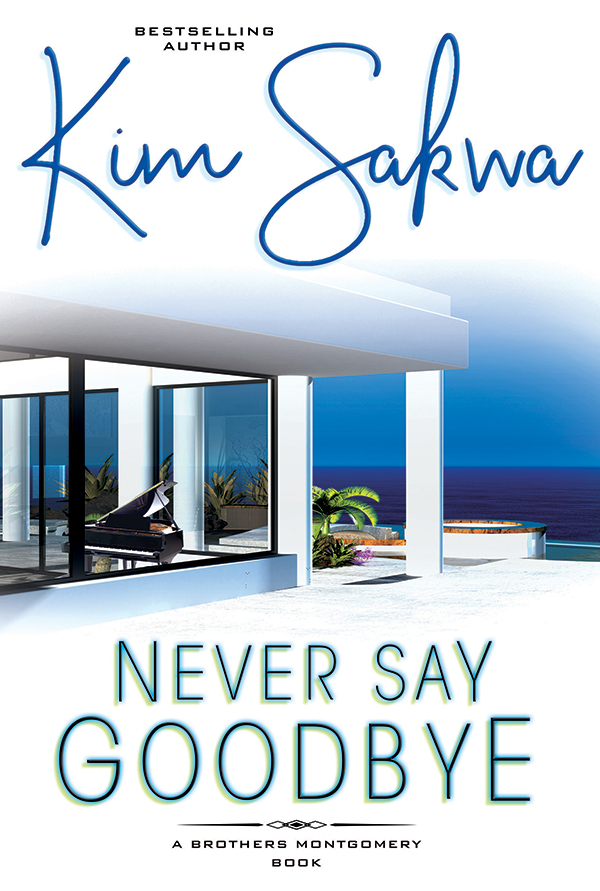 PRAISE FOR NEVER SAY GOODBYE
"You don't want to miss this one!...I was engrossed from the start…I enjoyed her first book The Prophecy, but this one blew her first out of the water. This is a new author to follow for sure." –Nicole Colby, Amazon Reviewer
"Another amazing time travel page turner by Sakwa! I was immediately drawn into the characters, the plot and the mystery. The story is filled with twists, turns, romance, adventure, questions AND answers, leaving me STILL wanting more. When I learned this is the first in a 'Brother Montgomery' series, I was so excited! I can't wait for the next book!" –Missy, Barnesandnoble.com Reviewer
"I loved this book from page 1—time-travel romance! don't want to spoil this but this is an up-all-night till 2am read!" –Jane, Goodreads User
"Everything you would want in a book! This book is certainly a page turner, adventure, suspense, lots surprises and of course romance that we all love! I didn't want it to end." –Nancy Gardiner, Amazon Reviewer
"Outstanding." –C. Strickland, Goodreads User
Amanda had just reached down for Zander when she heard Stan swear behind her and Callie whisper "Mama" as she latched on to her thigh. Stan was telling someone to back off. Obviously on his earbud since he wouldn't be saying that to her. She picked up Zander instinctively and Callie said "Mama" again, this time with more force.
"What, sweetie?" she said distractedly while turning to Stan. Jeez, he looked furious. The other two men guarding them closed in. Really tight. Callie shouted this time, drawing Amanda's full attention, and pointed toward the street. Amanda felt a moment's hesitation before turning. And when she did, she gasped.
She'd seen this picture before. Last night, as a matter of fact. She'd been preparing dinner while Callie sat on the sofa in the kitchen. One second the TV had been muted, then it was blaring. Amanda had startled at the noise then turned. Callie was standing on the coffee table, her whole body shaking with excitement, remote in hand. She'd rewound whatever had caught her attention and listened as the TV news anchor spoke. "From our business desk—exclusive and rare footage of billionaire Alexander Montgomery, president and CEO of Montgomery Enterprises. Mr. Montgomery is seen here, leaving his New York headquarters. His entrance to America happens to coincide with a masterful power grab of JDL Security." They showed a caravan of black Lincoln Navigators pull up to a prestigious Manhattan address. The cameras of course focused on him. The impressive, handsome man in question stepped from his vehicle. He ignored the press as he and his entourage entered the building. The newscaster continued, "While still in London, Mr. Montgomery amassed a brilliant staff, hand picking, if not plucking, some of the savviest technical, military, and medical minds. He's apparently settled in the States indefinitely."
Stan swore again, jarring Amanda back to the present as the caravan came to a stop. The doors opened in unison and Mr. Montgomery and his men emerged. Callie was right, her papa had come. And jeez, they meant business today. All in black suits. All wearing sunglasses. And she'd bet her life that they were all armed. They were large men and had a way of taking up the most space possible with a stance. Using hand signals to communicate, his men formed a perimeter, shutting down the street as he continued toward her.
Something about the way he looked now—dressed to the nines, storming so powerfully toward her, so totally in command—set her body thrumming right there on the street. Seriously, Amanda Abigail Marceau! How did you forget him? He was her every girlhood fantasy come to life. All six and a half feet of him. Tall. Broad. Dark. And so wickedly handsome. Straight nose, strong chin, and a mouth, she would swear, that was made to give orders. In fact, she watched him order Stan and his men just now to stand down as he walked right up to her. Like almost touching right up to her. She had to tilt her head back, which wasn't something she was accustomed to doing, not at her height. He stared at her a good few seconds, his eyes softening just a bit, before saying quite forcefully, "It seems there's a security problem."
"Wh…" Amanda had to wet her mouth; it had gone bone dry at his accent. She did after all have a thing for his voice, and apparently after just two days without it, it worked its magic on her again. She tried once more, "What security problem?"
"I'm in charge of your security," he shouted as he got right in her face, "and you're my problem!"