#1 International Bestseller  •  #1 Bestseller at Amazon
Lairds of the Crest Book II
She's an agent running from her past. He's the warrior who will become her future.
In her desperation to undo the tragedy that stole everything from her, Maggie Sinclair becomes entangled in an enchantment and thrust into 15th-century Scotland. Torn from everything she knows, her mission becomes survival.
Losing his wife and unborn child all but crushed the spirit of the once-proud Highland warrior, Callum O'Roarke. But when the sisters of Brackish Abbey press Callum to take in their new charge—a woman whose emotional scars are as deep as his own—he reluctantly agrees, offering Maggie sanctuary.
Thrown together after devastating circumstances, the pair find common ground in their shared pain, and begin to forge a friendship. Thinking he has nothing left to give, Callum learns to love again. After being trapped in the past, Maggie discovers she's in exactly the right place.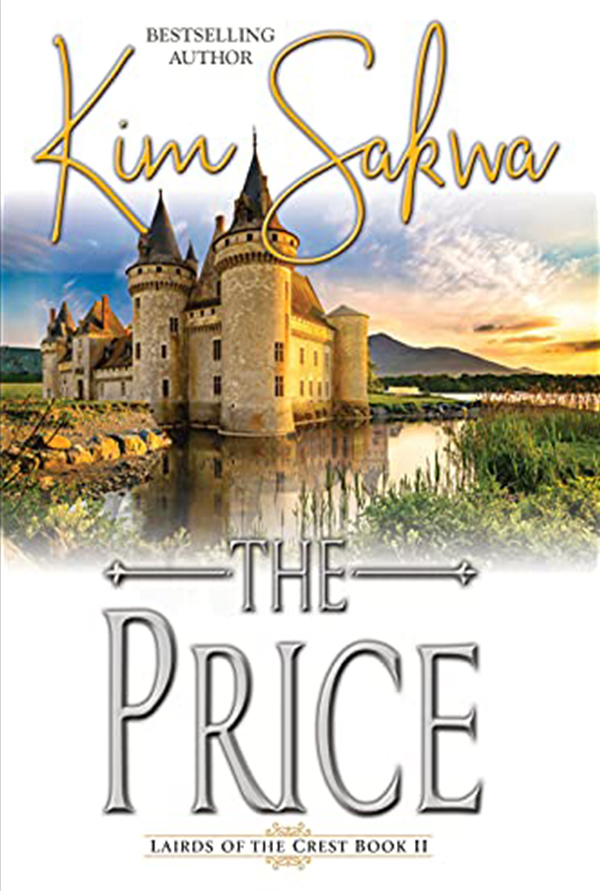 Praise for The Price
"What a great book. I liked how the focus was on the struggles that people go through, and how they can, and do overcome with patience and love." —Tammy, Goodreads Member
"I've been waiting for this story for long agonizing months after reading all of Kim's other books. Her fabulous tales are never a disappointment. A quick, engaging read with a delightful happy ending. Can't wait for the next one with Dar & Celeste!!!!" —Elizabeth, Amazon Reviewer
"The characters are delightful and the interaction of past characters makes for interesting reading." —Suzy, Amazon Reviewer
"The ups and downs took me on a emotional high. I cried one moment and laughed the next. I love this series." —Kathy, Goodreads Member
"This book had me glued to the pages until I was done and could breathe again." —LJ, Amazon Reviewer
"Callum, this is Margaret Sinclair, your new charge."
Maggie never, ever, thought she would be someone's charge. Yet here she—and it—were.
She looked up, finally, and met his gaze. Her first reaction a relief. He appeared to be in his late twenties, or early thirties. So far, he'd aged nicely, even for the times, like the fifteenth century, such as these. A scar ran from his left temple to his hairline. It did nothing to detract from his looks.
In fact, it added to his appeal.
This man had severe good looks. She was surprised he wasn't already married again. Realizing she'd been staring, Maggie felt heat creep to her cheeks. Somehow, though, she knew deep down it didn't matter.
His eyes, were a deep shade of blue, filled with nothing but warmth. He felt familiar to her. Odd as it may be, she knew him without knowing him—she could only describe it as such.
Maggie's mind was strumming a million miles a minute, so much so, her head was literally buzzing. Leaving the safety of Sister Cateline and the Abbey was terrifying.
She felt like a little girl again being shuttled to the Michaels. They'd been a lovely family. But it had been so new and scary. Here, the Abbey was all she'd known. It had become familiar and safe. Still, Maggie knew she had to trust her intuition. She knew on some level it was going to be okay.
He spoke then. "Are you the Sister my aunt first described? Or simply Miss Sinclair?" His voice was deep, yet his brogue and Scots Gaelic easy to understand.
She'd had well over a year of language immersion to learn a few new dialects. Thankfully, there was no anger in his question or hidden reprimand, and Maggie answered him honestly. At least in this, she would start out on the right foot.
"I'm not a nun, Laird O'Roarke, but took refuge with the Sisters of Brackish Abbey. Your aunt's been very kind to me. I've grown more than fond of her, and will miss her greatly." A wave of sadness rushed over her and tears filled her eyes. Laird O'Roarke's features softened.
"You may call me, Callum," he said. "I can assure you, my aunt is always welcome. It won't be long before you'll see her again."
His compassion was almost her undoing. She bowed her head in acquiescence, which allowed her to get ahold of herself. "Thank you, for your kindness. And I, sir, prefer Maggie.
AUTHOR NOTE
Dear Readers,
I hope you enjoy Maggie and Callum's time travel love story in THE PRICE as much as you did Gwen and Greylen's in THE PROPHECY; I am absolutely loving the Lairds of the Crest series!
If you read one of the first editions of THE PROPHECY before reading THE PRICE, you might be confused that the Lairds of the Crest series has jumped back in time by 100 additional years. Allow me to explain.
I've since shifted the time setting of the Lairds of the Crest series from the 16th century to the 15th century, and all current editions of THE PROPHECY reflect this.
It's all a matter of ignoring my instincts and then finally listening to myself—and my readers! When I first started writing THE PROPHECY, I originally set in the early 1400s. Then in subsequent edits, I moved it ahead 100 years, mistakenly thinking life in that later time period wouldn't seem so stark. But the history wasn't working quite right. 
So now Gwen and Greylen's love story is back in the 1400s, where it was always meant to be—and where we also find Maggie and Callum.
There are more Lairds of the Crest novels coming soon, and I am so glad you are with me on this journey!
With love,
Kim