The Brothers Montgomery Series, Book 2
SYNOPSIS
He's the number-one guy at Calder Defense. She's the girl who got away twice. Are they destined for eternal heartbreak, or is the third time the charm?
Finally breaking free from an awful marriage, Jenny had all but given up on love...until fate literally dropped her into the arms of her former law school crush.
What started as a casual lunch grew into the second chance at romance Jenny never dreamed possible. The two weeks that followed her unexpected encounter with Stan were nothing short of a blissfully happy fairytale. After being silenced and controlled in her previous marriage, Jenny was finally feeling more like herself again, and free to dream of a beautiful future with the man she'd been in love with for so long.
Yet when Jenny's past comes back to haunt her, a series of misunderstandings tear apart all thatshe and Stan have built together. By the time the two cross paths again, another year has passed and both have built emotional steel walls to protect themselves from furtherhurt. Can they learn to trust again and make their third time the charm?Or is their history too big of an obstacle to overcome?
Return to the Brothers Montgomery series with this sizzling contemporary romance featuring the men of Calder Defense—and the women they love.
PRAISE FOR NEVER TOO LATE
Named 2022 Official Selection – Bedside Reading
"This is my new favorite book. I loved the characters, the story and the writing was incredible...I can't wait for the next book!" – Goodreads User
"Loved this one. Kim is an excellent writer and the turns and twists aren't too unrealistic to be believed. The way we wish real life would be ;-)" – Goodreads User

"I love the writing of this author. I am an unofficial connoisseur of romance novels for the last 40+ years. Rarely do I find one but I can't wait to pick up where I left off. Or try to read the book in one sitting. Looking forward to many more." – Amazon Reviewer

"I just finished this book and all I could say was WOW! It is a great read and trying to keep up with the twists and turns all the way to the end, was very exciting! Kim Sakwa, keep writing! I can't wait for the third book!" – Amazon Reviewer

"Absolutely brilliant read. Fall in love with the characters and edge of seat moments. Highly recommend." – Amazon Reviewer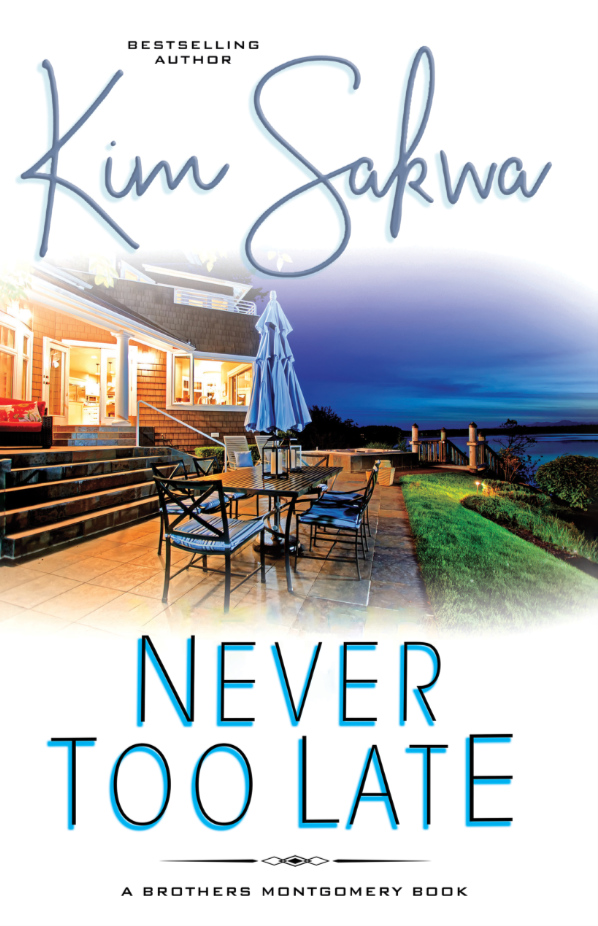 "Jenny?" Stan was somewhat dumbfounded, having literally bumped into the girl he'd way more than crushed on in law school. But here she was, right in front of him, in his fricking arms.
"Stan," she said, staring up at him, looking as stunned as he.
"What are you doing here? I mean, do you live in town now? Are you on vacation? Are you…" he sputtered. Idiot, what are you doing?
Jenny smiled, closed her eyes and shook her head, sending her curtains of blond hair this way and that. "I can't believe I ran into you," she said, still staring, still in his arms. "Literally."
"Do you have time for lunch, coffee?" he asked, keeping her close. There was no way in hell Stan was going to just walk off now. Not after fate put Jenny right in his path.
She hesitated a moment then gracefully extricated herself from his grip and glanced at her watch. A simple, beautiful piece on her delicate wrist. Then she looked up between her gorgeous dark lashes. "Lunch sounds great."
After her initial reticence, Stan hadn't been expecting her to say yes. He'd almost fainted. Him. Stan, the closer. Jenny gave a small nervous smile, like she was just as bewildered as he.
He looked around for a close spot, not willing to give her time to change her mind. They were on a block of boutique shops and eateries with outside seating. The beach was within walking distance.
"Here or by the water?" he asked, already losing himself in her pretty brown eyes.
They sparkled as she said, "Water."